Heavy Duty Lever Professional (M450)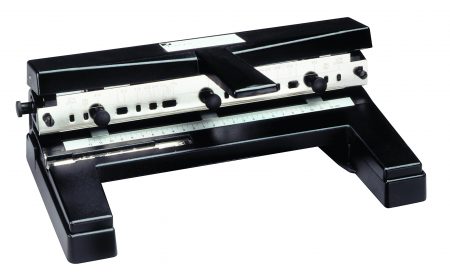 5050574452
About this Product
40-Sheet Capacity (20 lb. Paper)
Features
Exceptionally strong and versatile, punches through thick jobs with one smooth action.
Long term workhorse performance.
Patented pin technology for superior precision cutting of 9/32" holes.
Extended handle for extra leverage.
Adjustable calibrated chrome paper guide.
Calibrated chrome faceplate with 4 hole metric centres.
Heads slide on guide bar to line up with centre holes in faceplate and screw in place to prevent wandering.
Superflexible, accepts up to 7 punches for diverse punching applications.
Specifications
UPC:

00050505744527
Weight:

5.85 lbs
Dimensions:

14 x 7.9 x 4 inches